---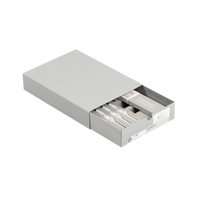 VITA VM LC is a radical change in this respect: This light-curing veneering composite is virtually indistinguishable from ceramics in terms of aesthetics, shading and durability. Due to its versatile range of indications, it is the ideal material for both fixed and removable restorations.
VITA VM LC". Restorations veneered using this material offer results that are virtually indistinguishable from ceramic veneers in terms of aesthetics. Excellent, proven shade stability and high plaque resistance.
A particular strength: Accurate Shades delivers superb, reliable results even when space is at a premium.
If shade 1M1 or A3 is used for layering, then this is exactly the shade of the final result