---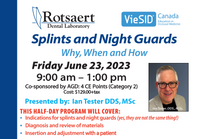 Splints and Night Guards: Why, When, and How
Date:  Friday, June 23, 2023
Time: 9:00 am – 1:00 pm
Location: Ron Joyce Centre | DeGroote School of Business
4350 South Service Rd, Burlington, ON L7L 5R8
Presented by: Ian Tester DDS, MSc
Co-sponsored by AGD: 4 CE Points (Category 2)

THIS HALF-DAY PROGRAM WILL COVER:
Indications for splints and night guards (yes, they are not the same thing!)
Diagnosis and review of materials
Insertion and adjustment
About the Speaker:
Ian Tester D.D.S., M.Sc. is a graduate of the University of Toronto (1982). In 2004 he received a Master of Science from Donau University in Austria studying under Drs. Rudolph Slavicek, Sadao Sato, and Noshir Meta. He is a Fellow and Past President of the Canadian Academy of Restorative Dentistry and Prosthodontics (CARDP) and a member of numerous dental organizations including the American Academy of Restorative Dentistry (AARD). Dr. Tester practices general dentistry in St. Catharines, ON with a focus on treating the complex patient using interdisciplinary treatment. Dr. Tester lectures internationally on the topics of complex treatment planning, function, dysfunction, and reconstruction of the complex patient. He is a Senior Clinical instructor with the Vienna School of Interdisciplinary Dentistry (VieSID) and VieSID Canada with Dr. Kim Parlett and Master Dental Technologist, Stéphan Provencher.
Refund and Cancellation Policy: Refunds will be provided for cancellation of 7 days or more prior to the course start date. A 3% processing fee will be applied to each refund. No refund for cancellation less than 7 days prior to the start date of the course.